CrystaLux G9 Series LED Headlight Bulbs for Ford F-150 (2015+)
SKU:

FORD-ZES-G9
Description
DESCRIPTION
Our CrystaLux G9 Series LED Headlight & Fog Light Bulbs use the latest technologies available in an automotive LED bulb. The beam has adjustable 360° ring (single beam only) using the included allen key. Single beam bulbs utilize 3 LUXEON Z ES LED chips per side while the low/high beam bulbs utilize 5 LED chips per side. Using a smaller size (2.0 x 1.6mm) the Z ES diodes are tiny and focus the light output with a uniform temperature (5700K). This offers a brighter bulb (lumen) with the perfect amount of illuminance (lux). A 15° cutting line (low beam) mimics a halogen bulbs light pattern which prevents glare or interference to other drivers.

The T-Shaped Red Copper PCBs offer more direct and efficient thermal conduction then traditional LED bulbs as they make contact with an aluminum sheet (which is bendable). Double-sided copper PCBs with thermoelectric separation structure technology (at only 2.0mm thin) help dissipate the heat. The aluminum sheets offer a more efficient heat dissipation method then normal copper belts. The cylindrical feet on the body also provide more surface area to radiate the heat away.

The smaller driver offers an easy installation for most vehicles. An aluminum cover provides better heat dissipation, EMC and anti-interference.
SPECIFICATIONS
Voltage (In): DC 9V-32V
LED Chipset: LUMILEDS LUXEON Z ES
Power: 20W/30W for Lo/Hi, 25W for Single
Current: 1.5A/2.3A for Lo/Hi, 1.5A for Single
Lux (Actual at 5.0 Meter): 2230LX/2560LX for Lo/Hi, 2160LX for Single
Lumen (Actual): 1162LM/1869LM for Lo/Hi, 2030LM for Single
Color Temperature: 5700K
Operating Temperature: -40°F ~ 240°F
ANTI-EM: S95/54/EC
PCB Material: Double-Sided Red Copper
PCB Technology: Thermoelectric Separation Technology
E-Mark: E9-10R-05.11388
Operating Life: >30,000 Hours
Available Bulb Sizes: Single: H1, H7, H8, H9, H10, H11, H16(EU), 5202, 880, 881, 9005, 9006, 9012, D1, D2, D3, D4, PSX24W, PSX26W. Hi/Lo: H4

CANBUS ANTI-FLICKER RESISTORS
Some newer vehicles may require a CANBUS anti-flicker resistor (also called a decoder) as the LEDs use less current then typical halogen lights. This can cause lights to either flicker or go out. The CANBUS Anti-Flicker Resistors place a load on the line and let your computer know your headlights are not out. You may not require the CANBUS anti-flicker resistors. You only need to add/install these if you experience issues with your headlight turning off and/or flickering.
RUBBER HOUSING CAPS
It is recommended to add on the rubber housing caps (sold as pairs for $15) which will aid in the installation of your lights on a 2015+ Ford F-150. The larger caps provide extra room for the aluminum fins to spread out. Please note that with the Anzo Projector Housing Low Beams there are currently NO CAPS that will fit over this. There is plenty of room within the low beam cavity on the Anzo Projector Housings for the bulbs. On the Anzo Projector high beams your rubber cap may be slightly loose. We recommend cutting part of the adjustment screw plastic to make room for the boot to slip past and using either a long zip tie or a few dabs of silicone to keep the rubber boot from moving.

Spyder High Beam Note: Due to the design of the H1 bracket within the Spyder housings, we currently do not have an LED Conversion Kit that will work with the high beams on the Spyder housings.

Sold as a pair. Actual images shown may vary from actual product.
PACKAGE CONTENTS
(2) CrystaLux G9 LED Bulbs
(2) LED Drivers
(1) Allen Key (Single Beam Bulbs)
(1) Installation Manual

SMALLER BULB SIZE
Unlike other LED bulbs on the market, the CrystaLux G9 Series bulbs are smaller and fit into tighter spaces.

LUEXON Z ES LEDS
Using LED diodes at only 2.0 x 1.6mm in size allows the light output to be tiny and focused.


HEAT DISSIPATION
Utilizing bendable aluminum fins fused to Red Copper PCBs allows the bulbs to dissipate the heat efficiently, eliminating the need for cooling fans.
ADJUSTABLE & REPLACEABLE COLLAR




Single beam bulbs have an adjustable 360° ring which allows the bulb to be rotated from the collar. This is useful should the install require the wire to exit from a certain side.





Additionally should the bulbs need to be re-purposed into a housing which calls for a different bulb size, the collars/led drivers can be replaced with new ones of a different size. This allows the owner to take the CrystaLux G9 Series with them as they change vehicles, saving money on upgrades.
FOCUSED LIGHT

Because the LUXEON Z ES LED diodes are smaller and focused, the light output mimics that of a traditional halogen bulb. A 15° cutting line (low beam) mimics that of halogen bulbs. This allows the bulb to operate in most housings without producing any negative lighting anomalies (such as glare or light scatter).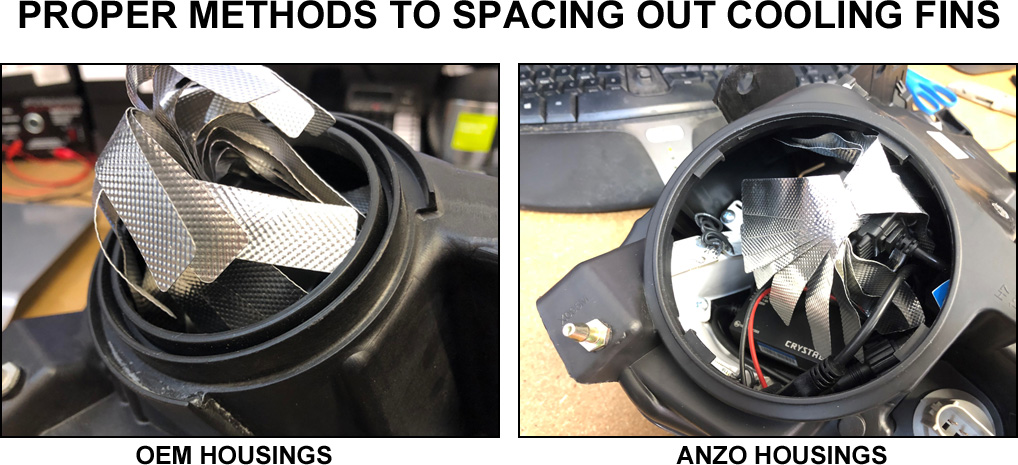 View All
Close
5 Reviews
Crystalux G9 Series High and Low Beams

Not the fault of the bulbs, but the headlight assembly removal on the 2015 - 2017 F150 is a far bigger pain than the previous series. As far as the LEDs, they have a brilliant white light color that I really like. The light spread is virtually the same as the halogens. I was hoping for a bit more of an improvement in brightness and spread, but even with the most significant improvement being in the whiteness of color, the LEDs were worth it.

Bought these for highs and lows for my Anzo Switchback install. Pretty easy install on my 2016 F-150. I bought the extra canbus adapters, so far no flickering and I dont need them. Better to have them and not need them than vise-versa.

These LED upgrades are a significant improvement over the stock halogen lights. The customer service was excellent during the ordering process and again during the install. Adam was very responsive to my questions (even on a Sunday). The LED kits were well-packaged and appear to be of professional grade. Install took a little over 2 hours, but most of that time was spent removing my headlights. After several weeks of driving, I am very pleased with these lights. Of note, I did purchase the anti-flicker assemblies, even though i'm Not 100% sure they were needed. All factory functions remain intact (DRLs, auto-on/off, etc). The high beams are incredible and throw a ton of light.

Bought these for my Anzo headlights. So far they have been excellent. Such a huge upgrade in light and visibility with these in the Anzo projector housing.

I installed these in a 2015 f-150 with Anzo projectors. The color of the light matches the LED ring perfectly. Great cut off on the low beams, and the highs are plenty bright. The customer service provided by 4x4truckleds was second to none.
View All
Close