Description
DESCRIPTION
Our CrystaLux G11 Series LED Headlight & Fog Light Bulbs use the latest technologies available in an automotive LED bulb. The beam has adjustable 360° ring using the included allen key (or ball bearing collar assembly). Single beam bulbs utilize 3 LatticeBright HGL3 LED chips per side while the low/high beam bulbs utilize 6 LED chips per side. The HGL3 diodes are tiny and focus the light output with a uniform temperature (6000K). This offers a brighter bulb (lumen) with the perfect amount of illuminance (lux). The smaller diodes mimics a halogen bulbs light pattern which prevents glare or interference to other drivers.
The double sided copper PCBs offer more direct and efficient thermal conduction than traditional LED bulbs as they make contact with a thermal silicon pad. Double ball bearing fans help dissipate the heat transferred from the PCBs. The aluminum body also provides more surface area to radiate the heat away.
The smaller driver offers an easy installation for most vehicles. An aluminum cover provides better heat dissipation, EMC and anti-interference.
SPECIFICATIONS
Voltage (In): DC 9V-32V
LED Chipset: LatticeBright HGL3 LED Chips
Color Temperature: 6000K
Operating Temperature: -40°F ~ 240°F
PCB Material: Double-Sided Copper
Operating Life: >30,000 Hours
Available Bulb Sizes: Single: H7, H8, H9, H10, H11, 9005. Hi/Lo: H4
Warranty: Includes 1 a year warranty against manufacturer defects

CANBUS ANTI-FLICKER RESISTORS
Some newer vehicles may require a CANBUS anti-flicker resistor (also called a decoder) as the LEDs use less current then typical halogen lights. This can cause lights to either flicker or go out. The CANBUS Anti-Flicker Resistors place a load on the line and let your computer know your headlights are not out. You may not require the CANBUS anti-flicker resistors. You only need to add/install these if you experience issues with your headlight turning off and/or flickering.
9006 NOTICE
The collars on the H10 / 9005 / 9006 are the same. Inside your box will be thicker o-rings which are to be used for 9006 applications. Simply remove the o-rings already installed and install the thicker o-rings provided for you in the box.
Sold as a pair. Actual images shown may vary from actual product.
You may experience interference on your radio when running LED or HID products. This is a very common occurrence and an easy solution (if you have some interference on your radio) is to clip on some ferrite cores. These are available on amazon (Link)
SIMILAR SIZE AS HALOGEN FILAMENT
The HGL3 LED Module has a similar size as a halogen filament. This produces a standard lighting pattern.

DOUBLE BALL BEARING FAN
The Double Ball Bearing Fan is more powerful, stable and lasts longer than traditional fans.


SMALLER DRIVER SIZE
The smaller LED Driver allows for the installation in smaller headlight housings.


360° ADJUSTABLE BEAM PATTERN
With an adjustable collar the bulbs are easily rotatable 360° to provide the perfect installation/beam pattern.

SINGLE & DUAL BEAM BULBS




The single beam bulbs utlize 3 LED diodes per side. The dual beam bulbs combine low and high into a single bulb. A light shield above the low beam diodes provides a cut-off which mimics that of a halogen filament bulb.
FOCUSED LIGHT

Because the HGL3 diodes are smaller and focused, the light output mimics that of a traditional halogen bulb.The pattern mimics that of halogen bulbs. This allows the bulb to operate in most housings without producing any negative lighting anomalies (such as glare or light scatter).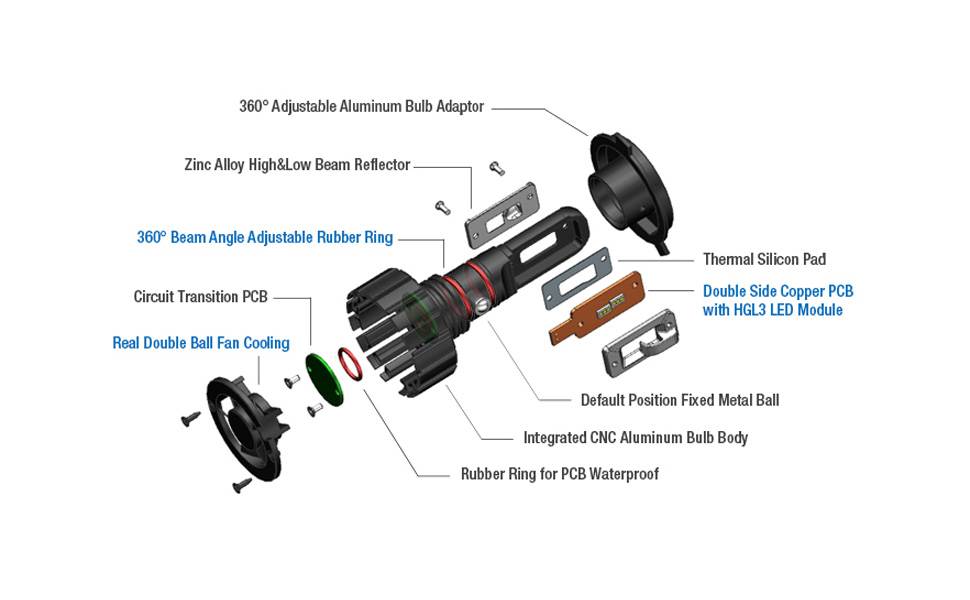 ALL NEW STRUCTURE DESIGN
The LED bulbs were precion CNC machined using an aluminum bulb body. Utilizing double rubber rings within the collars (certain bulb models) allows for a 360° degreen adjustable beam pattern. The double sided copper PCBs, paired with the thermal silicon pad, allow the heat to be disipated away from the LED chips. Double ball bearing cooling fans allow the bulb to cool efficiently while maining a small footprint. The bulbs carry an IP65 weather resistant design, enabling them to withstand the toughest of elements within the headlight cavity.
View All
Close