Description
DESCRIPTION
Our CrystaLux LED Fog Light Bulbs use the latest technologies available in an automotive LED bulb. Our bulbs will be a huge upgrade over your stock fog light bulbs. Available in either our CrystaLux XHP Series, G9 Series or G11 series. Read on and we'll help you determine which product you need.
XHP SERIES
Our CrystaLux XHP Series Bulbs are offered with one of the best LED technologies available from CREE, the XHP50 LED chip. The dual rolling, non-oil, high temperature durability nylon fans are built into the base of each bulb ensuring a long-lasting lifespan. The bulbs are offered in a 6500 Kelvin temperature rating to achieve that modern look of LED lighting typically offered on high-end luxury cars. These are one of our best selling LED bulbs, which we've been selling for quite a few years now. Actual light output is around 1,048 lux (~20 feet from the source).

G9 SERIES
The G9 Series Bulbs utilize the LUXEON Z ES Chip which is a cooler running LED Diode when compared to the CREE XHP chip. While smaller and cooler these lights still perform very well and throw light slightly further then the XHP Series. The XHP Series will give you a bit more light up close and on the immediate road in front of you whereas the G9 Series will throw light slightly further down the road. These bulbs utilize flexible aluminum sheets to dissipate the heat. The bulbs are offered in a 5700 Kelevin temperature which is great at battling eye fatique. Actual light output is around 1,690 lux (~20 feet from the source).

G11 SERIES
Brand new off the line are our G11 Series Bulbs. Using the LatticeBright HGL3 LED Chip these diodes, like the G9 Series, run cooler than the XHP Series. However they still offer a great amount of light on the road. Cooling is achieved with double ball bearing fans. The G11 series however are slightly smaller then the XHP series and are slightly easier to install due to their size. The bulbs are offered in a 6000 Kelvin temperature which is slightly whiter than the G9 Series. Actual light output is around 1,740 lux (~20 feet from the source).
Additional Notes: On some vehicles you may find it difficult to turn the LED bulb into the housing. Do not force this, as you may strip the set screw. It's best to use a regular screw driver to help coerce the bulb to spin, as you put twist the bulb into place. The fog light housings have plastic lips that the LED bulbs collars have to go over. Sometimes these plastic lips are larger on some vehicles and the bulb's collar needs some extra pressure to get over this lip. The LED Bulb and the LED collar are held together with a set screw, so using too much pressure will cause the bulb to "free spin"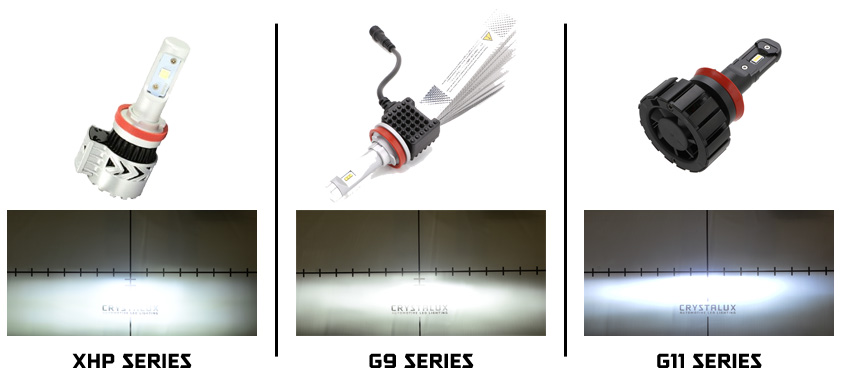 View All
Close